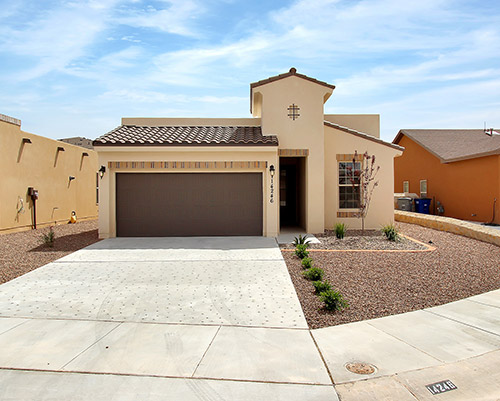 THE CULLERS ENERGY ADVANTAGE
We are proud to be one of the only home builders in El Paso to offer true, long lasting energy efficient solutions built into every one of our homes. We choose each feature in order to help clients have a cozier home in the winter and a cooler home in the summer. Our homes have the latest in energy efficient technology to offer our clients. In addition, each and every Cullers home helps our clients save money in the long run. They immediately see the difference when they compare their energy bills to those from past homes.
HOW DOES ENERGY EFFICIENCY WORK?
At Cullers Homes, all of our houses provide features in order to give our clients the latest in energy efficiency technology. We know that if one feature is sub-par, it renders all other efforts less effective. We put every one of our homes through rigorous inspections before handing them over to our clients. We stringently adhere to high-quality building standards so every house delivers the energy efficient results our clients expect.
BUILDING ENERGY EFFICIENT HOMES
Many things go into energy efficient homes in order for it to be truly effective. Initially, we begin with the exterior of the new house. We concentrate on a combination of air sealing, proper spray foam insulation, and energy efficient windows. These things are what begin the process of making a home comfortable, as well as improving durability. They also work on cutting maintenance and monthly energy bills. When we move into the interior of the home, appropriate seals are put in place to avoid any wall, ceiling, or air duct leaks. We pay special attention to every air duct so that the HVAC system in place is able to work optimally.
ENERGY EFFICIENT FEATURES:
• Spray Foam Insulation including garage area
• Seal Tight Package-Caulking on all lumber joints, base plates, including Windows & Doors
• Pella Windows low-E double pane, advanced argon gas windows
• Rinnai Tankless water heater
• R-5 insulated foundation
• 14+ SEER Engineered HVAC System
• R-9 insulated Garage Door
• CFL Bulbs 75% of fixtures
• LED Lighting
• Panasonic whisper green mechanical exhaust vent in utility room
Cullers Homes Energy Advantage is designed to reduce energy consumption by 40%, exceeding Energy Star ratings. Energy Star requirements include better windows and doors, effective HVAC options, and better lighting. Cullers Homes goes above and beyond with our Cullers Homes Energy Advantage. Our clients can be sure that their home is environmentally friendly and will effectively reduce their carbon footprint.
If you are ready to build your new energy efficient home with a company that puts the client first during and after the process, contact our office today.